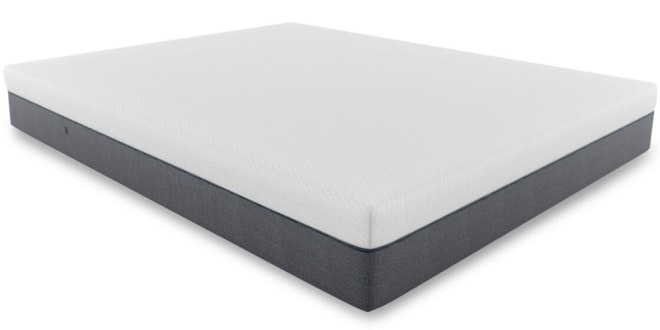 Essential Mattress Info
Brand
Haylee
Mattress Type
Memory foam
Prices
Other Sizes Available?
Video
Important Information
Certifications
Other Certification Info
Trial & Warranty
Trial Period
Trial Period (nights)
100
Warranty Length (years)
10
Firmness Options
One Firmness Fits All?
Adjustable Firmness
Half-Half Firmness
Selectable Firmness
Flippable / Reversible Firmness
Firmness Info
Haylee is a medium-firm mattress and a "perfect" 6 on a firmness scale of 1-10, with 1 being very soft and 10 being hard.
Mattress Construction
Materials Overview
The Haylee mattress is a 4-Layer Foam Structure:
Haylee® Aeroflo Foam
Haylee® Cool Gel Memory Foam
Transition Foam
High Density Foundation Foam.
The mattress also has a bamboo fibre knitted fabric cover.
Comfort Info
Get a great night's sleep on the Haylee mattress thanks to improved air flow and circulation and cooling gel. And if you sleep with a partner (or pet) you won't be disturbed when they move due to the high density memory foam that works in parallel with the Aeroflo foam to reduce motion transfer.
Support Info
Designed in Singapore, the Haylee mattress is comfortable and sturdy. The memory foam supports any body weight and shape, conforming to your body and offering snug support. This relaxes your body muscles, relieves body aches and therefore reduces the tossing and turning.
Comfort Specs
The top layer of AeroFlo Foam has perforated vents that provide advanced air flow and circulation by channeling your body's heat into the lower layer of Cool Gel Memory Foam, renewing coolness and regulating your body temperature. The Memory Foam is infused with cooling gel to quickly reduce the mattress temperature.
Support Specs
Aeroflo and Cool Gel Memory Foam combine to offer excellent support. Under this is a thick transition foam layer with consistent weight distribution and transfer.
Fabric Specs
Haylee has a bamboo fibre knitted fabric zipper cover that is removable and washable. The cover made from sustainable and renewable bamboo fibres is stretchy and snug for a breathable dry fit. Naturally treated to keep your mattress fresh and clean and free of bacteria and other nasties.
Manufactured in
China
Suitability
Side Sleepers
Back Sleepers
Recommended For
Size & Weight
Single
Single Dimensions
190 x 91 x 25 cm
Single Weight (kg)
17.5
Super Single
Super Single Dimensions
190 x 107 x 25 cm
Super Single Weight (kg)
20.5
Queen
Queen Dimensions
190 x 152 x 25 cm
Queen Weight (kg)
28.5
King
King Dimensions
190 x 183 x 25 cm
King Weight (kg)
32
Delivery
Delivery Cost
FREE
Delivery Info
All Haylee Mattresses are delivered in a convenient shipping box. All orders placed between 9am and 5pm, weekdays, excluding public holidays are typically able to be delivered to you within 2 hours, or from 11am on the next working day. You can also select a delivery time frame during checkout.
Prices