mattress
HipVan Snooze Mattress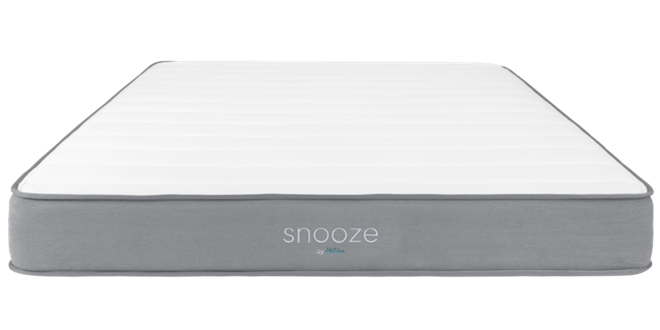 Essential Mattress Info
Brand
HipVan
Mattress Type
All Foam
Prices
Other Sizes Available?
Video
Important Information
Certifications
Other Certification Info
Trial & Warranty
Trial Period
Trial Period (nights)
100
Warranty Length (years)
12
Firmness Options
One Firmness Fits All?
Adjustable Firmness
Half-Half Firmness
Selectable Firmness
Flippable / Reversible Firmness
Firmness Info
The Snooze Mattress by HipVan is a medium-firm mattress and an 8 on a firmness scale of 1-10, with 1 being very soft and 10 being hard.
Mattress Construction
Materials Overview
The Snooze mattress by HipVan is an All-Foam Structure:
The mattress is the perfect mattress for a guest bedroom.
Comfort Info
Support Info
Snooze is an entry-level mattress targetting the spare rooms where it will be used irregularly but still offers just enough support to keep guests happy for short stays.
Comfort Specs
Quality quilting helps the airflow to keep you cool at night.
Support Specs
High density foam provides just enough comfort for your guests.
Fabric Specs
Snooze has a 340 g knitted cooling fabric + 1 cm foam. Breathability is our priority here. Never sweat again with our premium cooling Adaptive® fabric that encases all our mattresses.
Manufactured in
Suitability
Side Sleepers
Back Sleepers
Recommended For
The Snooze mattress can support in total up to 174kg (King) or 86kg (Single).
Size & Weight
Single
Single Dimensions
190 x 91 x 20 cm
Single Weight (kg)
9.6
Super Single
Super Single Dimensions
190 x 107 x 20 cm
Super Single Weight (kg)
11.3
Queen
Queen Dimensions
190 x 152 x 20 cm
Queen Weight (kg)
15.3
King
King Dimensions
190 x 183 x 20 cm
King Weight (kg)
18.8
Delivery
Delivery Cost
FREE
Delivery Info
Free shipping applies to orders over $250.
Prices